11 - 14 October 2021
Asian Contents & Film Market 2021

Asian Contents & Film Market (hereinafter "ACFM") provides an efficient exhibition environment that goes beyond the constraints of time and space through its Online Booth. Exhibitors of ACFM 2021 can promote their lineup in Online Booth in the form of individual web pages. In addition, by utilizing the market screening service, which is a benefit given only to exhibitors, you can maximize communication with buyers and lead active business.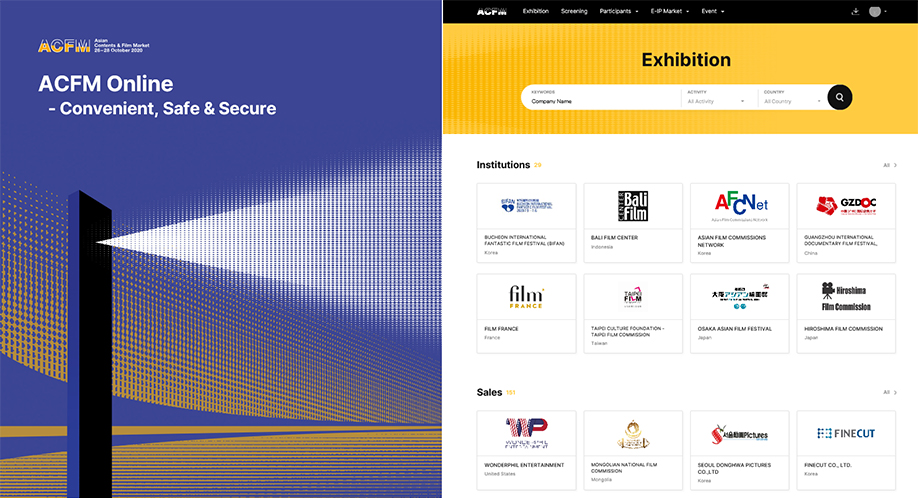 The above image is a part of ACFM 2020 Online Booth, and more efficient exhibition environment is being prepared for ACFM 2021.
Period and Rates
23 August - 28 September
Type
Price
Package Offerings
Market Badge
Market Screening
Package A
$300
3
Upload 5 contents
Package B
$500
5
Upload 10 contents
Asian Contents & Film Market is implemented as a duty-free business, and the Online Booth price is provided as a supply value without VAT.
Online Booth Registration Process

Details of Online Booth
You can apply for an Online Booth after logging in or registering as a new member.
Payment for Online Booth is accepted by credit card or by bank transfer.
When payment is successfully completed, a registration confirmation email will be sent.
For Online Booth exhibitors, please check the promotion code attached to the Online Booth Registration Confirmation E-mail and apply for Market Badge
Cancellation can be made up to the online registration deadline, and an administrative fee of 30% will be charged. (70% refund of payment amount)
No cancellations or refunds are made after the deadline.
For more information, please contact exhibition@acfm.kr